5 Best things to do in Costa Adeje, Tenerife 2022
Located in the beautiful south of the island of Tenerife, Costa Adeje has plenty of fantastic bars, restaurants, shops and attractions. 
If you're staying in Costa Adeje or are visiting for the day and are looking for things to do, here are some of the best things to do compiled by Sunphoria!
If you need any further information about things to do in Costa Adeje or Tenerife in general then give us a call or an e-mail, we're always happy to offer advice and information.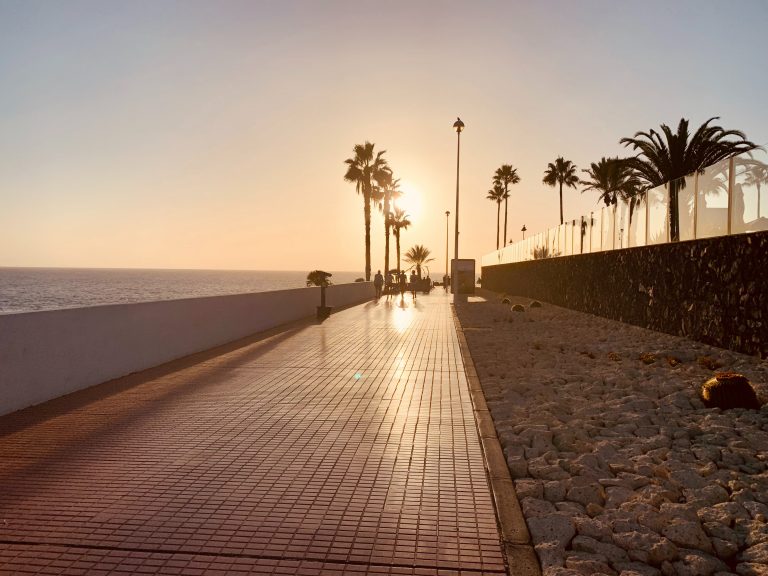 Of course, Siam Park is no secret but this wouldn't be an article about Costa Adeje (or even Tenerife for that matter) if we didn't include it! 
Chosen as the world's best waterpark by Trip Advisor in 2015 and 2017 and given a Travellers Choice Award by Trip Advisor in 2021, this water park really is incredible fun for all the family.  
With the 1km long 'Mai Thai' lazy river including an extra route taking you down slides and through a glass aquarium-style tunnel, 'The Wave Palace', which is a wave pool that features the largest man-made wave in the world and 11 adrenaline pumping slides and rides!
Although, in our opinion, Siam Park is geared slightly more towards older children and adults, there is still plenty for younger children. The Lost City is an amazing children's area in the park featuring bridges, towers, cascades and 15 waterslides!
When you start to feel peckish there are plenty of food and drink options such as the Beach Club and Beach Bar located by The Wave Palace offering fast food and drinks. Located a little further into the park you can find the Thai Bar where you can enjoy a cocktail or sangria with a view of the Mai Thai River. Of course, you can bring your own lunch and the park charge €3 to look after food and drink for you.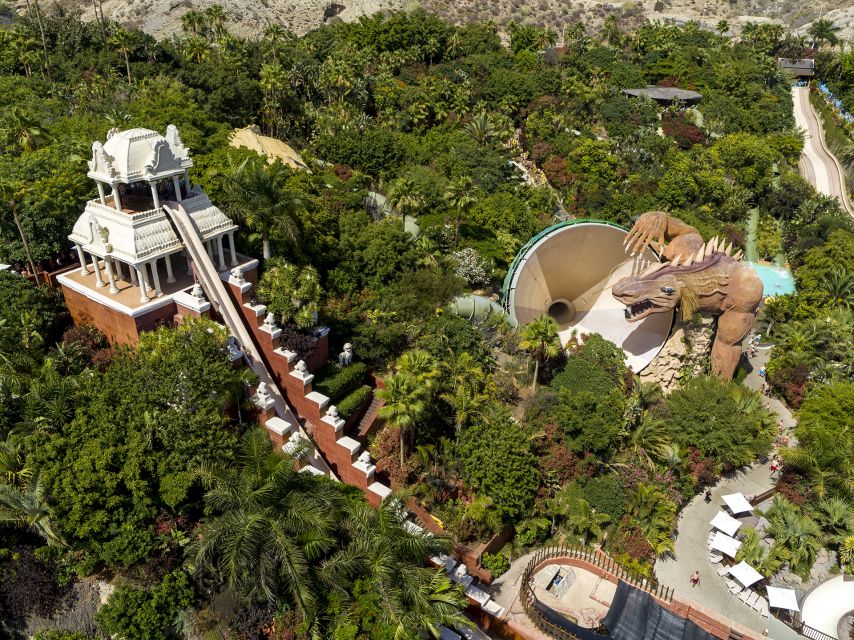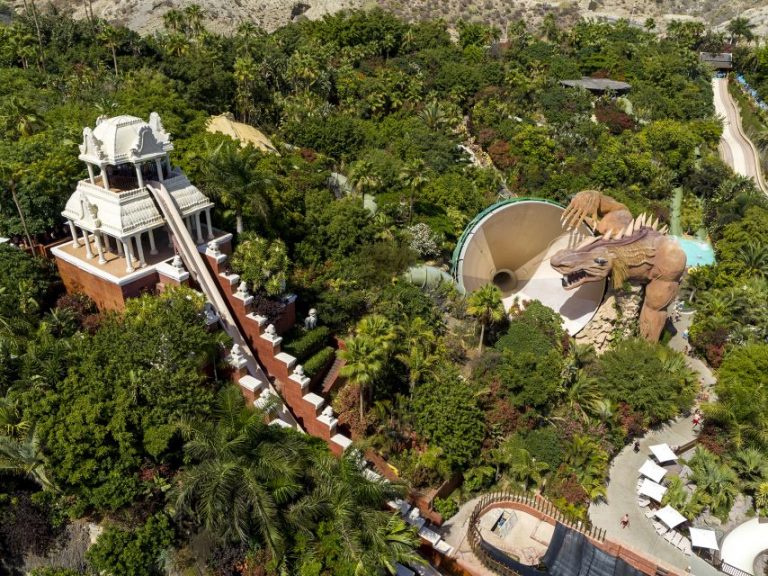 Siam Park is located just off the TF-1 highway, the main highway on the island. The park's address is: Av. Siam, s/n, 38660 Costa Adeje, Santa Cruz de Tenerife, Spain .
From the north (Santa Cruz) – If you're driving from the North then your best option is to drive south on the TF-1. From Puerto de la Cruz take the TF-5 east until you reach the TF-1 then follow the highway south. Siam Park is located just off junction 73 or 74, there is plenty of signage to guide you from here. 
From the south (Adeje) – Driving from the south, join the TF-1 toward Playa de las Americas, Costa Adeje etc and leave at junction 73 or 74 where there will be plenty of signage to guide you to the park.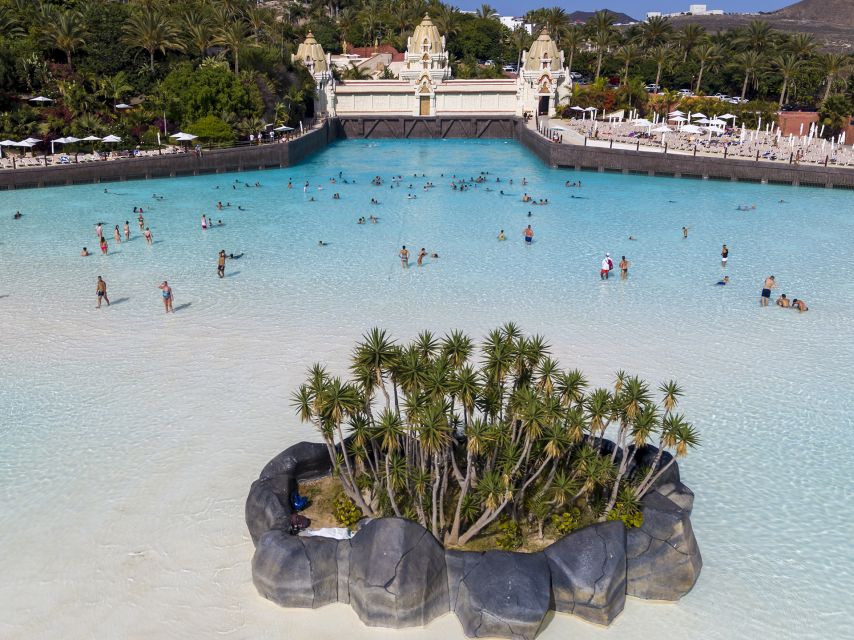 The park operates a free Siam Park bus service around the south of the island that you can use. The bus times are as follows:
| | |
| --- | --- |
| Siam Park  | 09:30  |
| The Duke Shops, Costa Adeje  | 09:35  |
| Centro Comercial Fañabe plaza | 09:40  |
| Hotel Villa de Adeje Beach | 09:45  |
| Llanos de Troya | 09:50  |
| Best Tenerife | 09:55  |
| Centro comercial Presidente | 10:00  |
| Centro Comercial Pasarela | 10:15  |
| Sol Arona | 10:20  |
| Siam Park  | 10:30  |
A return bus service is operated from the north of Tenerife and can be booked through Sunphoria, just give us a call. The price for the bus is €15 for an adult ticket, €10 for a child ticket and children 0 – 2 years travel free. The service serves Puerto de la Cruz, Santa Úrsula, Santa Cruz and Las Caletillas. The full timetable can be found here.
The park also operates a return bus service from Los Gigantes, which can also be booked through us. An adult ticket is €15, €10 for children and 0 – 3 year old children go free. The full timetable can be found here.
Siam Park tickets are priced as follows:
Adults – £32.00
Children (Up to 11 years old) – £21.68
Due to the large number of visitors to the park, we would always recommend booking in advance to avoid waiting in the queue to purchase tickets when you arrive. You can book your tickets for Siam Park here. 
Siam Mall Tenerife (Shopping Centre)
Located just a few minutes walk from Siam Park, Siam Mall is a shopping mall with over 70 stores ranging from clothing to jewellery to children's toy stores and playgrounds.
Whether you're looking for something specific or just want to spend some time shopping on the island, Siam Mall is the perfect place to spend some of your day or even a full day!
Siam Mall houses plenty of reputable brands that you'll recognise no matter where in the world you are from such as H&M, Pull & Bear, Vans and Zara. A full list of stores can be found here.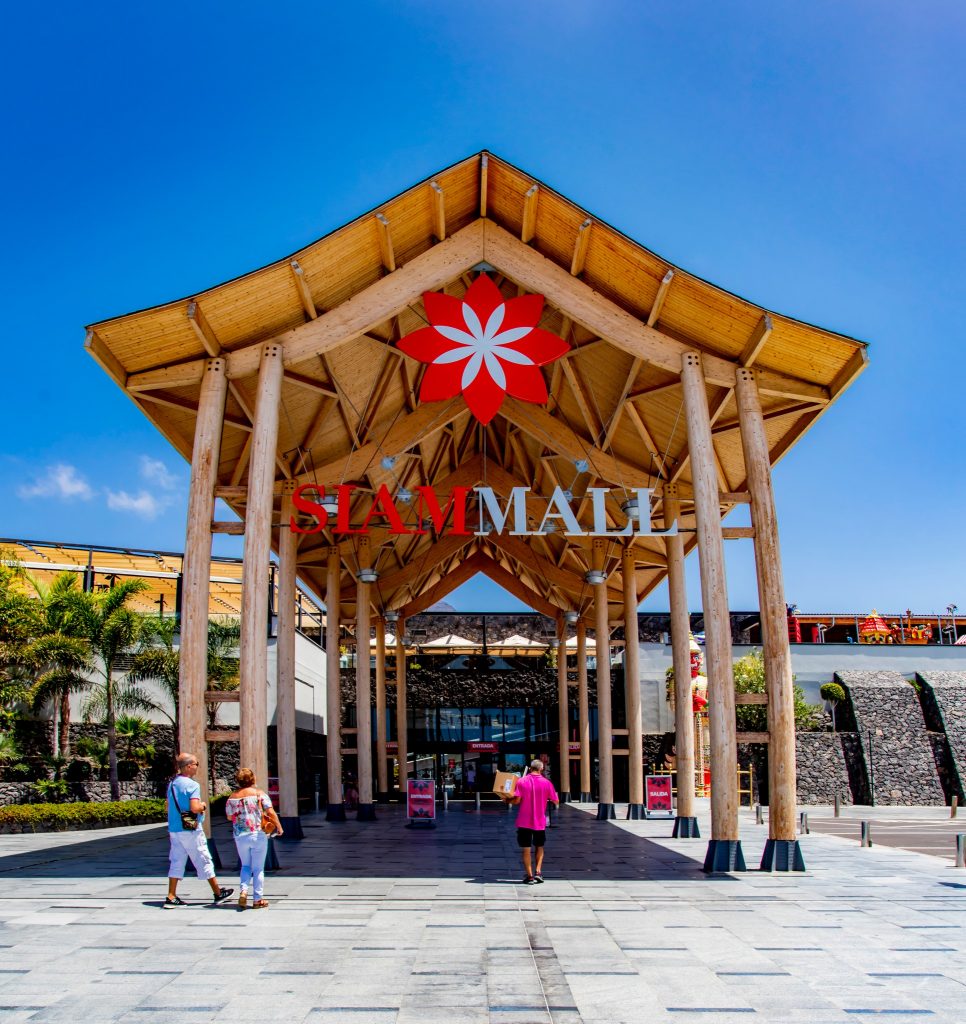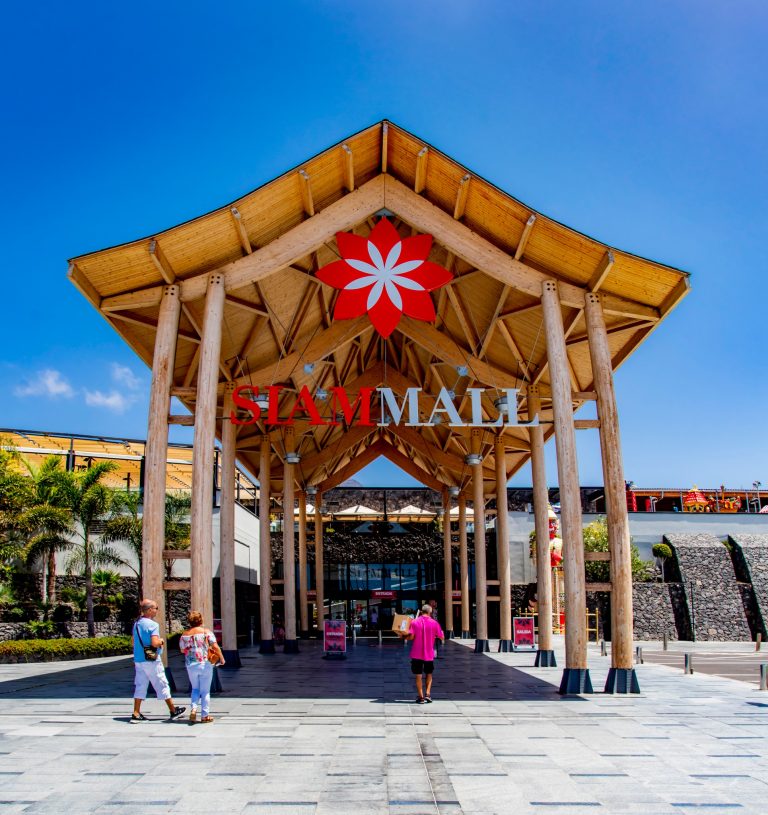 Siam Mall is located at Av. Siam, 3, 38660 Costa Adeje, Santa Cruz de Tenerife, Spain. Siam Mall is located just across the road from Siam Park so you could even visit both on the same day.
Like Siam Park, Siam Mall offers a free bus service from Costa Adeje, Los Cristianos/Playa de las Américas, Callao Salvaje/Playa Paraíso and Golf del Sur.
The bus to Siam Mall from Costa Adeje runs every hour until 13:00pm.
| | |
| --- | --- |
| CC El Duque | 10:00  |
| CC Fañabe Plaza  | 10:05  |
| Hotel Ocean Park | 10:10  |
| Hotel Bouganville Playa | 10:15  |
The return bus leaves the mall at 11:45, 12:45, 13:30, 14:00.
For full bus times from each area, visit the Siam Mall website here.
One of the most popular beaches for tourists in Tenerife, Fañabé Beach is around a 10 minute walk from the centre of Costa Adeje.
This beautiful beach is very safe with calm waters and lifeguards throughout the day. In the area are plenty of bars and restaurants offering local and international cuisine. 
Sunbeds and umbrellas can be rented with a single sunbed being €9 for the day but this price could vary.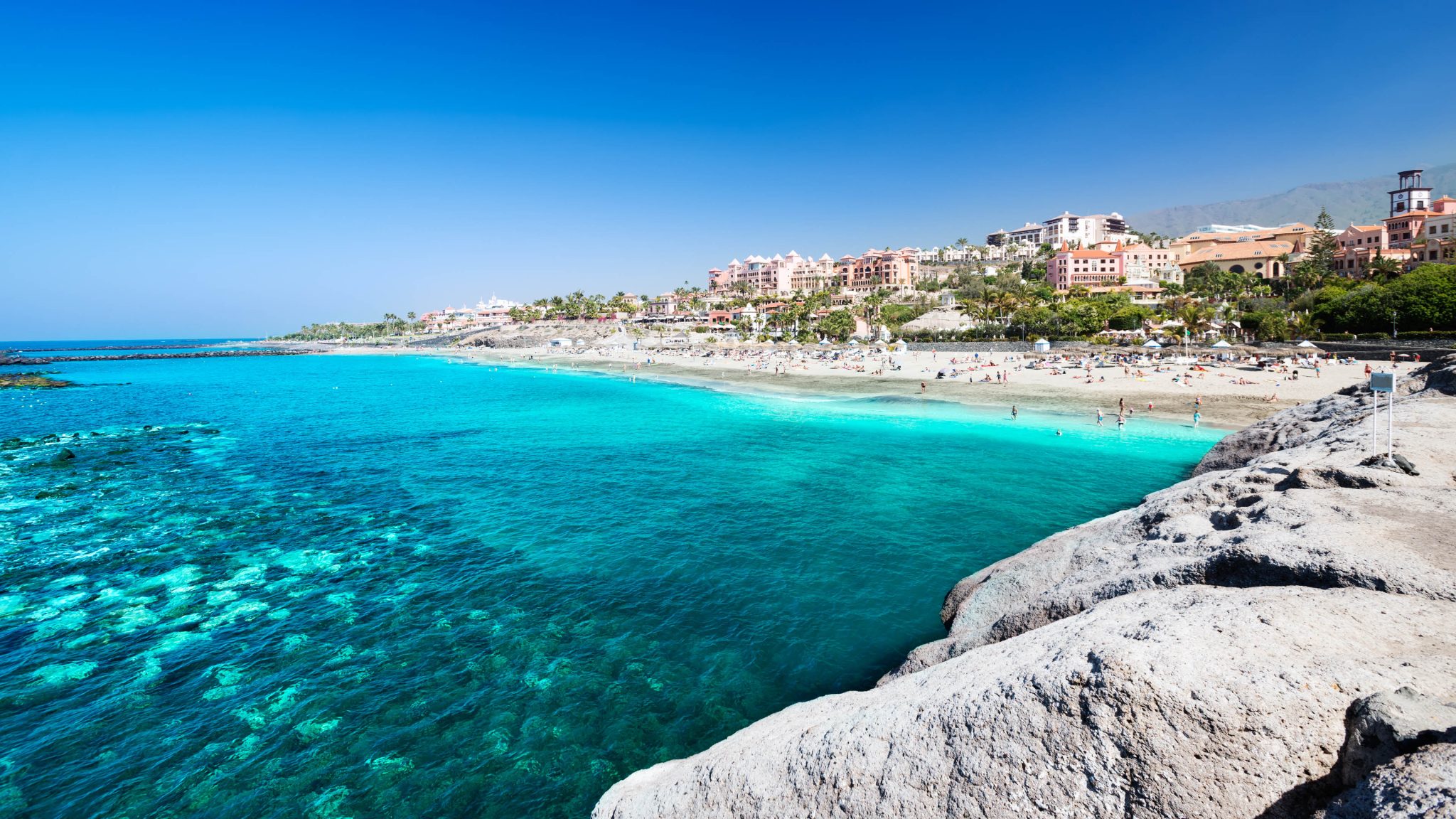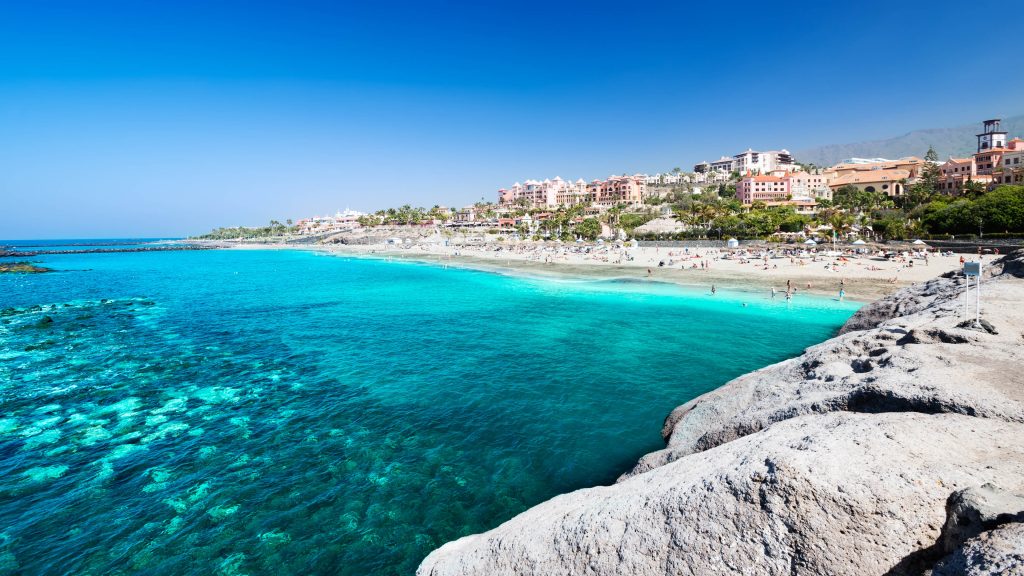 Also known as Costa Adeje Market, Fañabé Market is the perfect place to go if you're looking for a bargain whilst on holiday in Tenerife. Located on Av de Bruselas, Costa Adeje, the market has many stalls offering clothing, jewellery and souvenirs plus much more. 
The market opens on Thursday and Saturday every week from 9am until 2pm.
Many of the clothing items on sale are replicas of high-end brands' products so always check the quality of items before purchasing. Most, if not all, of the items on offer will be offered at a greatly inflated price for tourists as sellers will expect you to bargain. You should always haggle to get the best price possible and never accept the first price offered.
A word of warning: Despite the Costa Adeje area being relatively safe, the market can get very crowded at peak times therefore pickpockets operate in the area and target tourists. Always keep valuables in a safe place, preferably in a bag kept on your front such as a bum bag.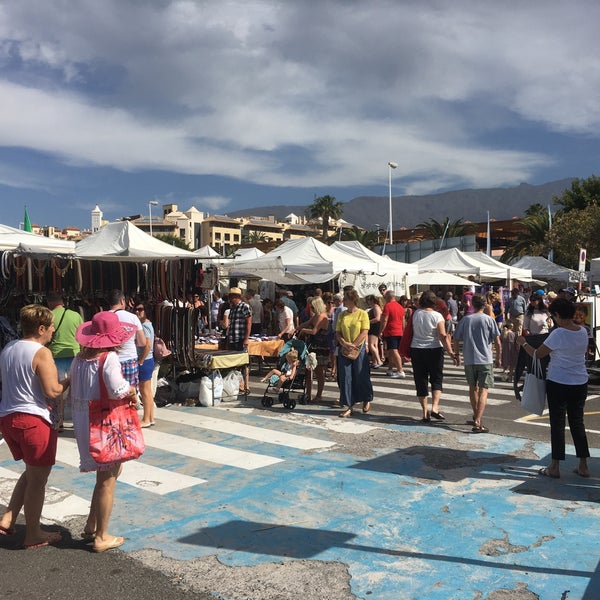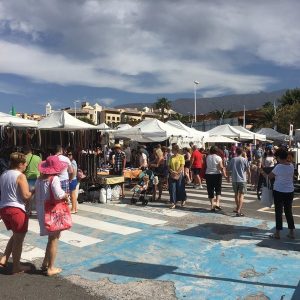 A short walk south along the coast takes you to Puerto Colon where you will find the beautiful beach of Playa de la Pinta, plenty of bars and restaurants and a large harbour.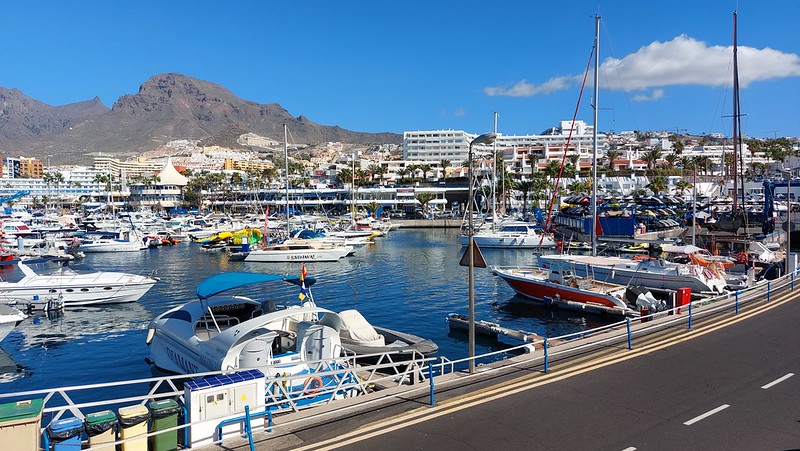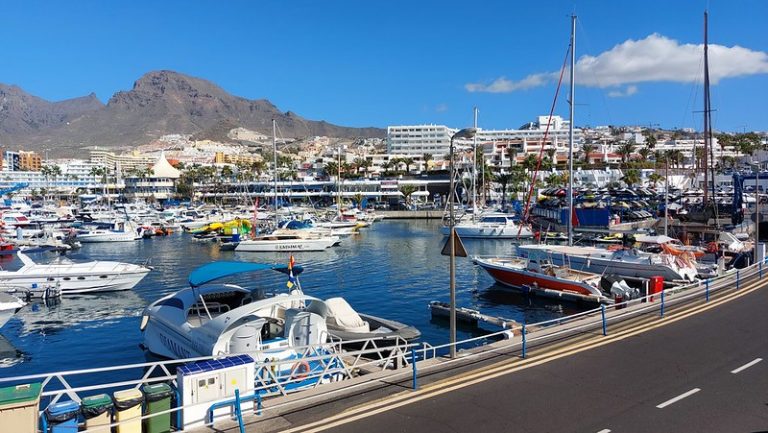 Boat Trips & Excursions from Puerto Colon
From whale watching boat trips to snorkelling lessons and even speedboat hire are all available from Puerto Colon, all of which can be booked through Sunphoria Excursions. 
Why not try White Tenerife's outstanding eco-friendly whale and dolphin watching tour? Taking you along the island's south coast to observe the beautiful marine wildlife in its natural habitat, this is an experience not to be missed whilst on the island. To check availability, prices and to book your slot, click here.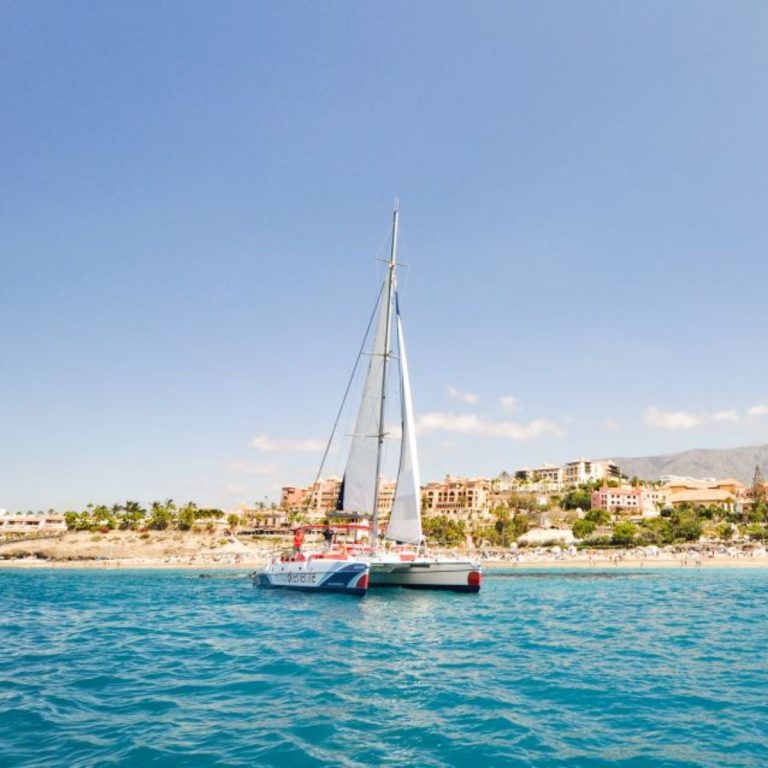 Walk from Costa Adeje to Los Cristianos
We would highly recommend walking south along the coastal path from Costa Adeje to Los Cristianos via Puerto Colon and Playa de las Américas.
The 1 hour 30 minutes walk along Tenerife's coast takes you past some of the beautiful natural black sand beaches on the island such as Playa de Troya or the aforementioned Playa de Fañabé. From start to finish, the entire coastal path is lined with bars and restaurants giving you plenty of opportunity to sample some of the local beers, wines and cuisine.