Exhilarating Tenerife Paragliding Tour (Hotel Pick-up Included)
Information
This tour sells out quickly, don't miss this incredible once in a lifetime Tenerife paragliding experience!
Ever wanted to go skydiving in Tenerife? Well, this is the closest that you can get! Take an incredible tour over the coast of Adeje, flying over ravines and canyons with a champion paragliding instructor!
This tour starts with pick-up from your hotel in Costa Adeje, Playa de las Américas or Los Cristianos in the south of Tenerife. Once all participants have been collected, you will be taken to the start point.
After making your way to the starting point you will be given a thorough health & safety briefing, you will talk about all aspects of your flight from take-off, flight and landing.
You'll start your Tenerife paragliding flight over incredible canyons and ravines all whilst having an breathtaking view of Tenerife's coastline!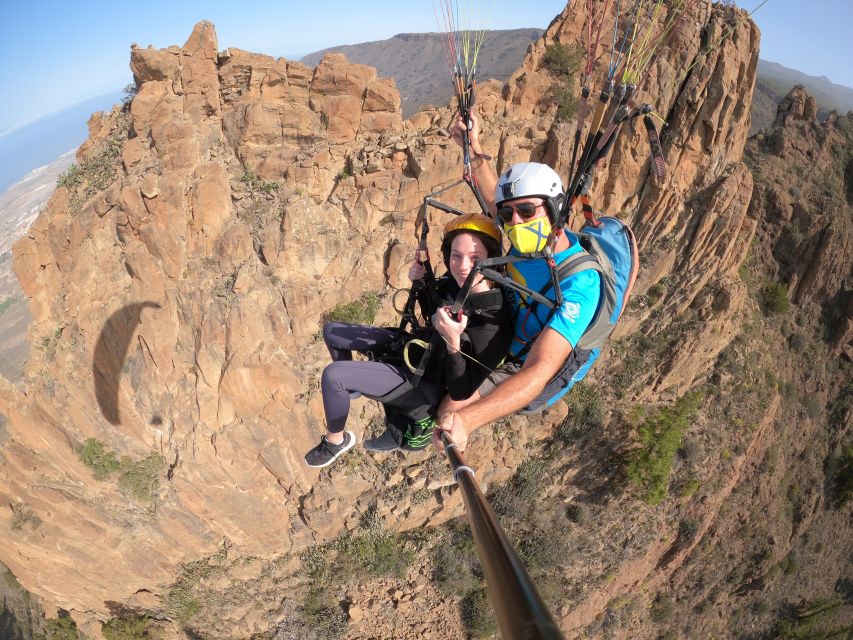 Toward the end of the flight, you will have the opportunity to perform aerobatics or even pilot the paraglider yourself, should you wish to.
The flight usually finishes on the Adeje coast.
The flight will last approximately 20-30 minutes depending on the route that is taken, which changes depending on weather conditions.
Once the flight has ended, you will be taken back to your hotel with your new-found appreciation for the beauty of Tenerife!
This tour includes 5 Go-Pro Photos and a water bottle.
Booking
On receiving your booking, a member of our team will contact you to confirm your pick-up location and complete your booking.
For further information, be sure to get in touch via our live chat where we are available every day.