Jet Ski Tenerife Safari
Information
If you're looking to jet ski in Tenerife then this is the trip for you!
The day will start by meeting the team at the port of San Miguel where you'll be shown your jet ski for the jet ski safari. You'll be given your safety equipment, which includes a snorkelling mask, goggles, a wetsuit and, of course, a lifejacket. A locker is provided so you can ensure that your valuables are safe. You'll have a briefing to introduce you to the jet ski to keep you safe during the tour, you'll then set off on your jet ski safari around Tenerife.
The jet ski safari will take you west toward Los Cristianos and along the coast where you'll pass the lighthouse at Punta Rasca, Palm Mar and continue toward Los Cristianos. You may even see some of Tenerife's incredible marine wildlife such as fish, dolphins, turtles and even whales! On a clear day, you may even be able to see the island of La Gomera to your west. 
On your return to base, you'll be given drinks (tea, coffee or juice) whilst looking at the photos from the day. You will have the opportunity to take a shower ready to continue your day on the beautiful island of Tenerife!
This jet ski Tenerife safari is very well rated and we would highly recommend it! 
This Tenerife excursion sells out quickly so we would recommend booking well in advance.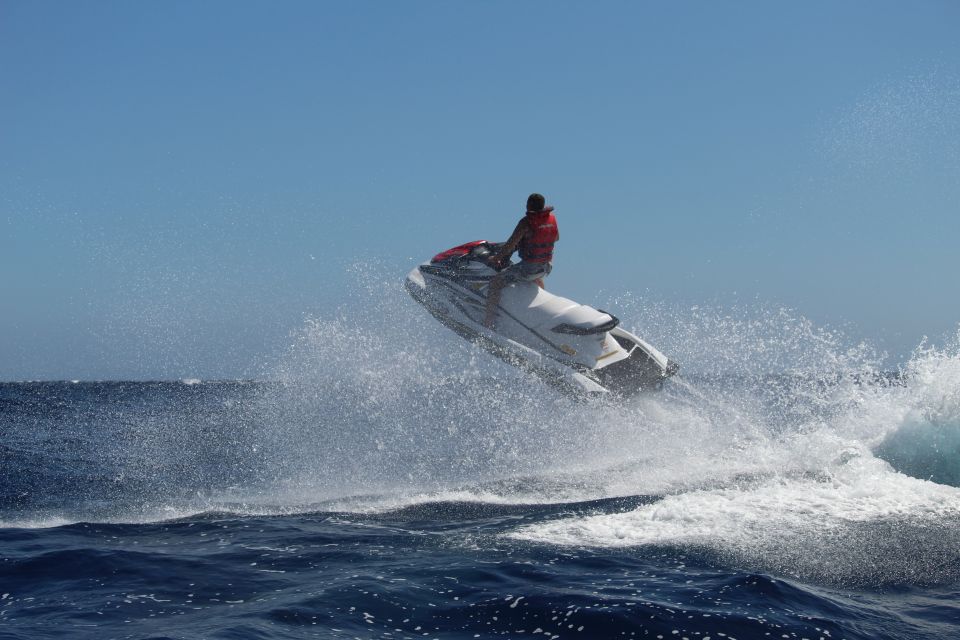 Starting Times
The 1 hour jet ski safari starts at either 11:15am, 2:00pm, 3:30pm, 4:45pm or 6:00pm.
The 2 hour jet ski tour starts at 9:15am.
On booking, the only option will be 11:15am but don't worry, this is just a limitation of our system. We will contact you on confirming your booking to check the time that you would like to take the tour.
2 Hour Jet Ski Tenerife Safari
The 2 hour tour offers all of the above plus a break from the jet skis to snorkel in the crystal clear waters.
Important Information
If hiring two or more jet skis, a €50 refundable deposit per jet ski will be required, this is to ensure that all safety rules are followed. The deposit will be returned at the end of the tour.
You will be required to bring and show a passport or ID card to participate.
You must be 16 years or older to drive a jet ski but will need written consent from a parent or legal guardian if they are under 18 years old.
Passengers must be strong enough to hold the driver's waist and must be at least 5 years old.
Booking Information
On booking, we will contact you via the e-mail address that you have provided to confirm the time of your booking. We will also send you all of the required information to ensure that your day runs smoothly.
Check out our latest post on the best Things to do in Costa Adeje!